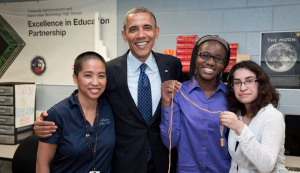 Janice Trinidad, Ph.D.
Twitter: @DrTrinilicious
I am a founding teacher of Cedars International Next General High School (CINGHS).  I am currently facilitating and developing the Algebra 2 and Integrated Physics & Engineering courses at CINGHS.  I also serve as a support teacher for one section of 8th-grade mathematics.  Parents at CINGHS know me as the @TheCedarsRaptor because I like to don my dinosaur costume when I cheer on our student athletes (The Raptors) at their games.
Prior to working at CINGHS, I was a founding staff member, Project Based Learning (PBL) science facilitator and Instructional Coach at Manor New Technology High School (MNTHS).  I joined MNTHS in its inaugural year (2007).  My primary preps between 2007 and 2015 were Integrated Physics and Algebra 2 and Integrated Physics and Engineering.  Between 2015-2016,  I served as one of MNTHS' Instructional Coaches.  Between 2009 and 2016, I mentored many awesome students who competed with First Robotics Competition Team 2789 TEXplosion.   Prior to working at MNTHS, I earned my Composite Science Certification through the UTeach Baccalaureate program and earned my doctoral degree in Physics (Condensed Matter Theory) at the University of Texas at Austin.
I have worked as a PBL trainer for Advanced Reasoning in Education (@ThinkGlobalPBL) since it was founded in 2009 under the former name Think Forward.  Being a part of the ARIE team has inspired me to continually reflect on PBL practices and to document the best of what I've learned so I can share that knowledge with other teachers.
I believe in using experiments and data to make risk taking less scary and more productive.  I believe that assessments are needed to verify the impact of strategies.  I like to count and record things.  In my own life, I use counting, recording and color coding to set and track goals, to chip away at long term projects, and to celebrate moments of victory, joy, and insight.
In addition to this blog, I also maintained a weekly blog that recounted all things awesome at MNTHS during the 2015-2016 school year called Another Awesome Week.